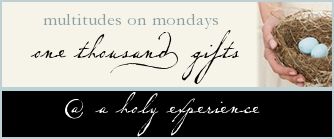 Blessings # 54 - #60
54) So thankful that my Mom got to visit last weekend. It was awesome having her all the way from Texas!
55) Our little son that is beginning to pull up on everything!
56) Eating Thai food with my husband at a nice little place in Lexington.
57) Finding the color shirts that I wanted at Target!
58) Laying out on a blanket on Sunday afternoon outside our church, and basking in the warmth and playing
with Samuel
59) Being able to give a 14 year old girl who comes to our church a book that meant a lot to me!
60) Having a good conversation with a young lady here at the college while I walked the circle last night.