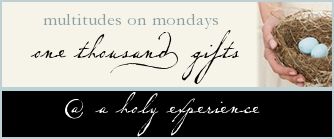 Blessings #68 - #74
68) God bring people to church Sunday who we didn't expect!
69) A man who had stolen the church's TV getting saved in the church yard Sunday morning.
70) Playing a fun game with some young people Friday!
71) Dancing lighted stick figures, hillbilly music, awesome drumming, etc. at a Variety Show Friday
72) Getting an awesome package in the mail with a pretty necklace I had won, and an awesome bag to go with it!
73) Good conversation with the ladies in our "Created To Be His Helpmeet" Bible Study.
74) Eating yummy food, and good conversation, and inspiration at a small retreat.
"In Everything give Thanks, for this is the will
of God in Christ Jesus concerning you."