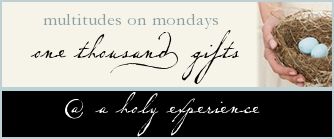 Blessings #89 - #95
89) A pile of clean diapers for Samuel to start the week!
90) Friends who invited us over for yummy ice cream after church!
91) A baby crawling fast through the house laughing!
92) Being able to get "my corner" organized!
93) Going swimming with friends...and looking out over the pretty lake!
94) My husband not letting go of my hands while I was floating over really deep water ( I can't swim)
95) Compliments from my sweet husband!
"In Everything Give Thanks, for this
is the will of God, in Christ Jesus Concerning You."