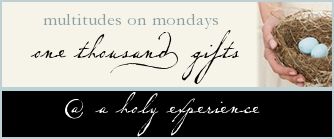 Blessings #96 - #102
"
1) Air Conditioning to keep me cool!
2) A nearly 11 month old son with all of his antics to keeps me smiling!
3) Lots of laundry, purging and organizing clutter to keep me busy!
4) A husband who likes to swim at the lake to keep me having fun!
5) homemade pizza and peanut butter milkshakes to keep me full!
6) Good sermons during campmeeting to keep me searching my heart!
7) Good books that keep me thinking!
"
In Everything Give Thanks, for this is the will of God
in Christ Jesus Concerning you."