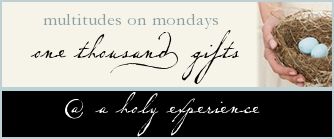 Blessings #103 -#109
1) Ice cream and fresh peaches! So yummy!
2) Good singing!
3) Talking to friends in the nursery during church... while we watch our babies.
4) My sister hanging out at our house for a few weeks
5) Fresh corn on the cob!
6) Garden fresh green beans!
7) Getting stuff organized and put away in my house!
"In Everything Give Thanks, for this is the will of God, in Christ Jesus Concerning you.