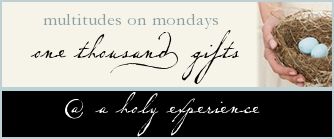 Blessings #117 -#123
1) My little son walking all over the place!
2) Homemade ice cream on Sunday night!
3) New Students for us to get to know!
4) Enjoying walking around outside of church with Samuel.
5) Candles burning!
6) Getting to enjoy my birthday roses all week!
7) Watching a movie with my husband!
"In Everything Give Thanks, for this is the will of God,
in Christ Jesus concerning you!