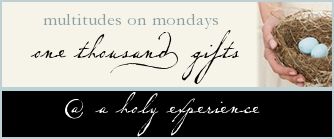 Blessings : #124 - #139
1) Swimming in the lake with my husband and baby son!
2) A beautiful fallish/summerish Sunday! Absolutely perfect weather!
3) Samuel and I playing with his blocks!
4) Birthday shopping for Samuel for his first birthday!
5) Canoeing down the river with one of my good friends on Saturday!
6) A cute sweet husband to meet me when we were done!
7) A Whole Foods tote bag with lots of yummy goodies given to me!
"In Everthing Give Thanks, for this
is the will of God, in Christ Jesus Concerning you."