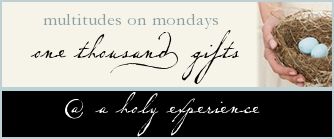 I am joining Ann over at
A Holy Experience
in counting 1000 beautiful gifts God bestows on me and my family this year! I think it will be a great experience, looking for God everywhere - in the big things, and even in the little things! He loves us SO much! Hope you join me!
Blessings #1 - #17
1) I am grateful for my hands that I can use to prepare a healthy breakfast for Samuel.
2) I am grateful for my ears to hear the beautiful worship music playing as I work.
3) I am grateful for hair that I could straighten this morning.
4) I am grateful for the rain outside watering the earth
5) I am grateful for the ripe oranges from Louisiana given to me by my grandparents!
6) I am grateful for the yummy baklava given to us by a sweet old lady!
7) A sweet little angelic man at a gas station who told me " Never lose your smile, it is so precious!"
8)I have learned so much from Genesis Chapter 1 that I have been reading and journaling this week!
9) I am grateful for God helping me to plan a baby celebration for a dear friend!
10) I am grateful for our real Christmas tree that gave me so much joy, but now needs taking down!
11) I thank God for Cheerios to bring to church to keep Samuel happy.
12)I am thankful for orange carrots to steam up for my son's late night snack.
12) I am thankful for the start of a new week - Mondays always make me happy!
13)I am grateful for easy access to a library full of wonderful inspirational, and spiritual books!
14) I am grateful for the new Kindle my husband gave to me for Christmas!
15) I am grateful for the mild weather we had last week. I even got to play outside with Samuel.
16) A friend sharing her son's toys with Samuel during church!
17) Lots of beautiful worship choruses and testimonies being shared in church last night!