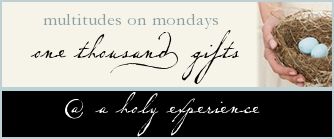 Here are some of my blessings lately!
1. A clean house on Monday!
2. Vintage looking stuffed animals in my window.
3. A sweet card from a friend - just because!
4. Holding a friend's newborn baby boy!
5. Finding some summer clothes for Samuel at Goodwill.
6. Standing up hugging my husband and praying for him before church, where he is to preach.
7. Samuel cuddling up to me and falling asleep.
8. Fruit pizza!
9. The pretty Valentines tablecloth and centerpiece on my table!
10. Giving my husband a little gift every day until Valentines!