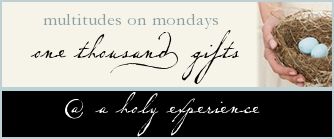 Here are some of my blessings and gifts lately!
1) Friends coming over to chat and talk about baby stuff!
2) Holding a new baby of a friend's
3)Watching my husband trying to follow all the clues in the Valentines treasure hunt I sent him on!
4) Eating yummy dark chocolate cheesecake!
5) Reading blogs on a lazy Sunday afternoon.
6) Playing Uno with my husband
7) Watching "Walker Texas Ranger" with my husband.
8) Walking out the door and gazing at the beautiful peaceful snow falling!
9) Two yummy salads today!
"In Everything Give Thanks, for this is the will of God
in Christ Jesus Concerning you."