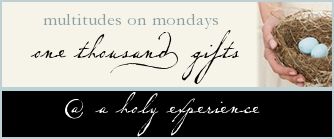 1) Getting summer clothes out for Samuel.
2) Visiting with a good friend and eating a yummy inside picnic lunch with her.
3) Spontaneously going to town with friends to shop.
4) Making yummy fajitas and guacamole for my husband and I .
5) Taking a trip up to Michigan to visit Eric's family.
6) Samuel and his cousin running around their grandparent's house.
7) Going to Beatiful Fredrich Meirs Gardens with family and seeing beautiful butterflies and flowers.
8) Seeing how God grants desires!
9) Watching my husband and son play with plastic boats and in the sand.
10) Going to Target and Taco Bell with Eric on a date.
11) Finding some cute clothes at Target.
12) Going to church with my parents in laws
13) Eating a yummy family dinner of meat loaf and mashed potatoes.
14) Hanging out in the kitchen working with my in-laws ( Love them!)
15) Talking with my parents on skype tonight! Love skype!
"In Everything Give Thanks, for this is the will
of God, in Christ Jesus concerning you.