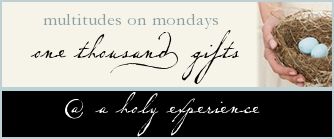 1. I am so thankful that we did not get hit with the Tornadoes Friday. Only about 30 minutes to an hour
hour away there was terrible destruction!
2. Helping package chips for the tornado relief effort Sunday night with friends.
3. Playing Battleship with Eric ( my husband)
4. Hearing Samuel say "Bah" for "Bye". It is so cute!
5. Hearing that a dear friend is pregnant again!
6. Hearing a wonderful sermon in the basement of our chapel while hiding out from the tornadoes!
7. Drinking a yummy banana smoothie!
8. Playing basketball with Eric.
9. Drinking sparkling grape juice!
10) Getting my replacement Kindle in the mail! I'm so happy Amazon sends you another one if your
little baby gets a hold of yours and breaks it! This time I'm gonna try to keep it even safer!
"In Everything Give Thanks, for this is the Will of God
in Christ Jesus concerning You."