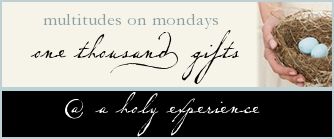 1) The dress I ordered on Ebay fit me!
2) Eric stroking my hair while listening to music at the Junior/Senior banquet.
3) Yummy Peach cobbler pie!
4) Lots of fun romantic poses with Eric for the camera.
5) Taking fun pictures all dressed up with my friends.
6) Listening to some really stirring words from a visiting preacher.
7) Yummy sausage with biscuits and gravy.
8) Watching a movie with a friend.
9) Hugging Eric in front of his dorm guys before he left for a ball game.
10) Visiting with another mom at a friend's baby shower.
11) Very yummy food at said baby shower.
12) Eric laying a t-shirt on top of me when he got back from the ball game. He had bought it for me, and it was cute!
13) Visiting with some of our favorite people at their house, and eating yummy strawberry frozen cake dessert.
"In Everything give Thanks, for this is the will of God,
in Christ Jesus, Concerning you.
-1Thessalonians 5:18