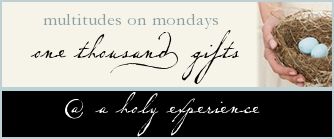 1) I enjoyed going to the revival services my husband preached this week.
2) I enjoyed seeing him all dressed up each night!
3) Visiting with a friend this week who I don't see all that much.
4) Going out for ice cream with another couple.
5) Watching Samuel run all over the church before and after services.
6) Peppermint sticks to keep Samuel occupied!
7) A kindle case that my husband brought home for me.
8) Visiting with friends on a lazy Saturday afternoon.
9) Being invited over for Sunday lunch.
10) Wonderful Southern Gospel Music sung by sweet people.
"In Everything Give Thanks, for this is the will of God,
in Christ Jesus Concerning You."