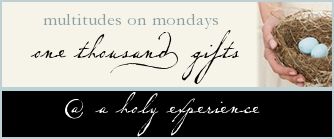 1) A red bird!
2) Coming up with a pretty outfit!
3) Hearing Samuel call "Mama" to me out the window
4) Hearng Samuel say "Hello"
5) A nice Sunday afternoon hike
6) A very moving parade of people whose lives have been transformed by God.
7) Sitting with Eric on a blanket on the ground, leaning an a hay bale, sorta watching a movie.
8) The time Samuel ran in front of the movie screen outside where college kids, and teens were watching a movie, and Eric ran and swept him up!
9) Eating yummy mexican food.
10) Getting to talk Spanish.
"In Everything give Thanks, for this is the will
of God, in Christ Jesus concerning you."