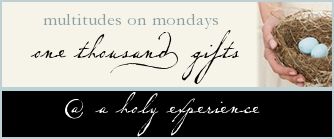 1) Playing tennis with friends.
2) Going to the park with a friend and her child, and having a picnic.
3) Kentucky Fried chicken which I haven't had in a long time!
4) Watching Samuel climb something challenging, and doing a great job!
5) Planting pepper plants and hoeing around tomatoes.
6) Going 4-wheeling through a pretty creek with my husband.
7) Sharing an order of very yummy fajitas at a mexican restaurant.
8) Watching Samuel fold his hands for prayer.
9) Getting a new cloth diaper and detergent that I won in the mail. It was so cute!
"In Everything give thanks, for this is the will of God,
in Christ Jesus Concerning you."
-1 Thessalonians 5:18