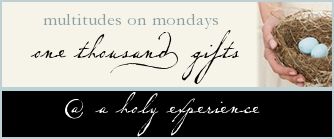 1) Finding out I am pregnant last Monday!
2) Drinking root beer on our camping trip!
3) Cooling off by wading in the creek.
4) Hearing how God is doing amazing things in our area churches.
5) Attending the beautiful wedding of some friends on Saturday.
6) Having a " tea party" with a friend and her little grandaughter and Samuel and I.
7) Eating yummy salads outside at the picnic table yesterday evening!
"In Everything give thanks, for this is the will of God,
in Christ Jesus concerning you.
- 1 Thessalonians 5:18