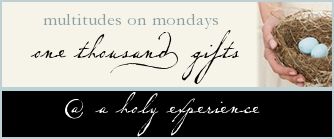 1) Hiking about 6 miles with my husband in a beautiful gorge!
2) Sitting on a rock watching my husband build a crude ladder to a cave!
3) The blessing of sitting down in the van when my feet were SOOO tired!
4) A cute blackboard menu displaying a menu for delicious sounding food!
5) Cilantro that makes everything taste amazing!
6) One of the top best pancakes I have ever eaten with delicious maple syrup.
7) Gliding around on a lake with my husband in a canoe.
8) Seeing a cute turtle swimming in the water.
9) Hiking through a creek with my husband dragging a canoe so we could go as far as we could down the creek to explore.
10) Playing in the pool together.
11) Talking to a cool lady about her baby carrier.
12) Eating a delicious pizza for our 3rd Anniversary meal.
13) A two hour long game of UNO together.
14) A lovely big cabin in the woods to stay in for two nights on our anniversary getaway.
15) Samuel's smiles and cuddles when we came home today!
"In Everything give thanks, for this is the will of God,
in Christ Jesus concerning you."
-1 Thessalonians 5:18