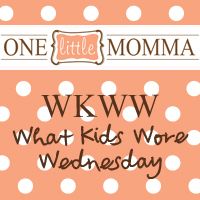 So last year, I sometimes took part in the Small Style link up which was on Thursday. This year that has been discontinued, and instead I will try to link up often with
What Kids Wore Wednesday
. If you have children, come on over and join in. It should be lots of fun, especially now since I have a girl! Girl's fashion is so much fun, although, I have to say, I have really enjoyed dressing our son Samuel too! This week's pictures were taken Sunday when we got baby Naomi dedicated at church. Before she was born, I bought her this beautiful red dress at Target for her dedication. I got a great deal on it in their after Christmas clearance ( by the way, Around the middle of January is a great time to buy dressy things and winter clothes for next Christmas and next winter!). The was already out-growing it though, so I think that is the only time she will get to wear it!
Outfit details: dress and cardigan- Target; leg warmers- My Little Legs; socks - garage sale;
shoes- garage sale; headband- gifted.